Dental Implants in Hyderabad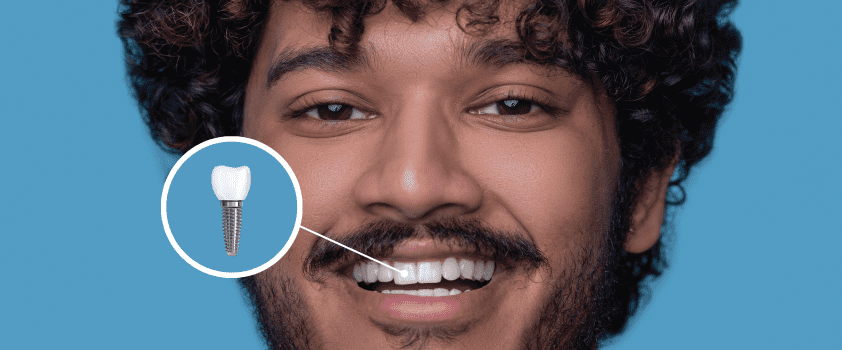 What About Implants?
World class dental implants treatment in Hyderabad with globally trained dentists, only at Park dental.
When a tooth is lost due to injury or disease, a person can experience rapid bone loss, defective speech or discomfort. Replacing a lost tooth with an implant can significantly improve the patient's quality of life.
A dental implant is a titanium post that replaces the root of a tooth. The post is surgically placed into the jawbone where the tooth was removed. After healing, the bone grows around the implant, creating a stable foundation for the replacement tooth.
You should consider having dental implants if you have lost several teeth due to decay or injury. Dental implants offer a number of benefits over other types of dentures.
Full chewing function is restored after getting an implant, which is a huge plus. There is usually no noticeable difference between the implant tooth and the natural tooth. They can use it for routine eating and cleaning tasks like brushing and flossing.
Depending upon how you look at it, it resembles a tiny screw, cylinder, or a blade. It is implanted into the jawbone and serves as a home for one or more prosthetic teeth.
Things to consider:
Your overall health.
Brand and model of dental implant system used.
Smoking may affect the healing process.
Follow the oral hygiene instructions given to you by our dental provider.
Regular cleaning as advised.
What are the benefits of a dental implant?
Restores the chewing ability.
Restores cosmetic appearance.
Helps keep the jawbone from shrinking due to bone loss..
Preserves oral health.
Helps the nearby teeth to be stable.
Hence, they are considered beneficial and safe.
According to International Organization for Standardization (ISO) safety standards, dental implants made of titanium alloys. These are biocompatible and safe. Fix your appointment now and avail the best dental implant service.
Dental Treatments
Centered Around You
Every treatment plan is personally tailored around achieving long-lasting results.