Dental Sedation in Hyderabad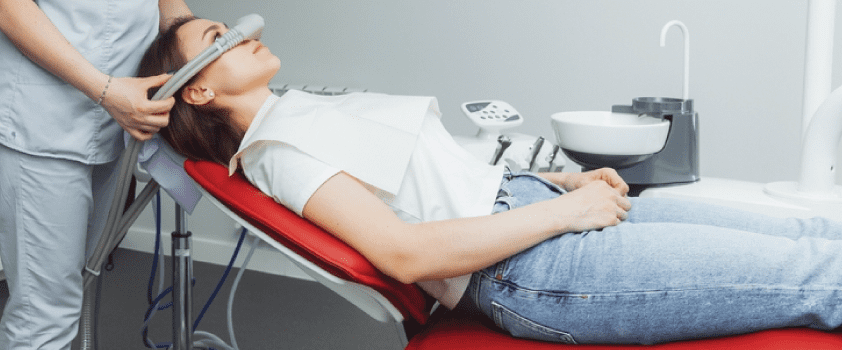 What Sedation Is Used In Dentistry?
Nitrous oxide/laughing gas, oral conscious sedation, and intravenous sedation are all viable options used in sedation dentistry.
Triazolam, zaleplon and lorazepam are other options. Midazolam oral syrup is used for kids.
How does it work?
Sedation dentistry ensures that dental operations are stress-free experiences. People who suffer from dental phobia or are undergoing extensive dental work can benefit from this.
Sedation is useful not only for patients who have trouble sitting still or keeping calm, but also for those who have medical issues that make it difficult for them to do so. It has a soothing effect, allowing the patient to gradually unwind their body and mind. Sedation is a way to put patients at ease in the dentist's chair. At this level of sedation, you are awake yet in an extremely relaxed state of mind.
Anaesthesia renders you unconscious and painless; conscious sedation only relaxes you.
Most patients can rest assure that dental sedation is a safe option. It's natural to have concerns about a new prescription or procedure, so don't be shy about asking questions.
Many options exist for doctors to make their patients feel at ease throughout the invasive treatments like surgery or medical diagnosis. Sedation, a frequent form of pain relief that can put you to sleep, is one option.
Sedation might last from 15 to 30 minutes, or even many hours for more involved procedures. Both oral and intravenous sedation reduces dental anxiety and makes the procedure more pleasant. The avoidance of dental care due to fear or anxiety might lead to serious consequences. They can be sedated with mild sedatives so that the check-up and cleaning go more smoothly.
Anxiety-free and stress-free dentistry is what we practice at Park dental. For more information on sedation, visit our dentist soon.
Dental Treatments
Centered Around You
Every treatment plan is personally tailored around achieving long-lasting results.