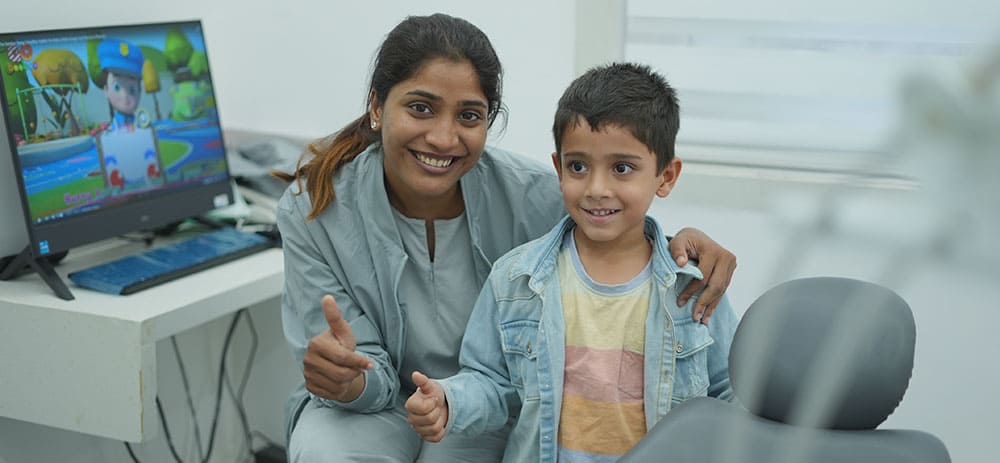 Worried About Your Child's Oral Health?
When it comes to children, every parent is worried about their oral as well as general health and they choose the best treatment and the best Pediatric Dentist in the city.
General health of every individual depends on their oral health. So, get your child for that dental visits, they need.
When should be a Child's first dental visit?
As soon as a child's first primary tooth erupts, the first dental visit should be done.
Even before the tooth erupts, the gum pads should be wiped after nursing. By doing this, the oral hygiene of the child is maintained.
Wiping the gum pads or primary teeth in an infant is very important as it might lead to Nursing bottle caries.
FACT
The Pediatric dentist starts the procedure with their management skills.
What is Nursing Bottle Caries/ Baby bottle caries?
This is a condition in which cavities appear and spread rapidly on the child's upper front and back teeth. It doesn't affect the lower anterior teeth, as it is covered by tongue during nursing or feeding with a bottle. Hence, the term "Baby bottle caries".
How to treat this condition?
Pediatric dentist provides you various management techniques and diet counselling. We teach brushing techniques to the child and the parent on how to avoid this condition/teeth from decay.
Diet counselling
Teeth brushing techniques
Fluoride preventive therapy
Sealants as a preventive therapy
Restorations for the cavities
Pulp therapies if there are deep cavities
Either zirconia, titanium, gold plated or stainless steel crowns post treatment
Space maintainers if required
Extractions in case of a damaged tooth
Pre-orthodontic care
Dental Treatments
Centered Around You
Every treatment plan is personally tailored around achieving long-lasting results.