Gum Theraphy in Hyderabad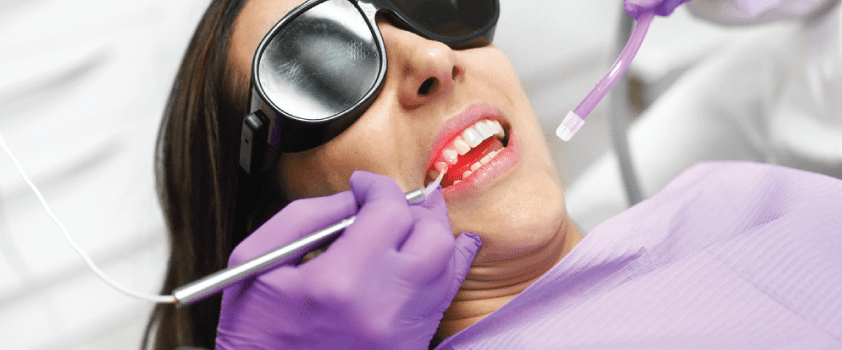 What About Gum Therapy?
It is commonly referred to as a Scaling and Root planing or Deep cleaning, treats the area beneath the gums when there are signs of gum disease.
According to the American Dental Association (ADA) people who have improper oral hygiene are prone to gum disease.
Smoothening any rough places on the tooth root paning. Removing microorganisms and providing a clean surface for the gums to reattach to the teeth is accomplished by smoothening the rough regions.
Scaling and root planing is the most well-known non-surgical treatment. This basic cleaning involves thorough removal of tartar from the diseased gums and the smoothening of the tooth root to remove any bacterial toxins. In addition to these, the dentist can also use other techniques to help the patient recover. These methods are utilized to thoroughly clean the gums and eliminate microorganisms.
Additionally, surgical techniques are offered by our Periodontist, to treat the illness. The discomfort associated with periodontal therapy may be significantly less than you anticipate. Fear is one of the reasons why people don't visit the dentist as soon as they experience symptoms.
If your gum disease is severe, you may require additional treatment, such as periodontal surgery. In some circumstances, the damaged tooth must be extracted. Your dentist will be able to explain the necessary treatment plan and its execution.
How do we prevent these gum diseases?
Use a mouth rinse to minimize plaque build-up between teeth.
In addition to brushing and flossing, you should also use an interdental cleanser, such as a dental pick, interdental brush, or dental stick.
Protect your gums and teeth before they loosen up your teeth.
Schedule an appointment with us to know more information about the gum diseases and the necessary treatment plan for it.
Dental Treatments
Centered Around You
Every treatment plan is personally tailored around achieving long-lasting results.